Bonsai Trees
Garden Plinths, Staging and Displays
Displaying Bonsai in Your Garden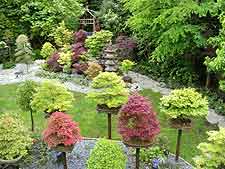 Bonsai trees displayed in any setting can add interest and appeal to any garden. However, displayed in a Japanese style garden their appearance is greatly enhanced and the overall effect can be breathtaking.
Position your trees in a prominent area where they can be fully enjoyed and appreciated, rather than hiding them away in a corner, where out of sight they can easily become dry. They need good light and air circulation and should be regularly turned to ensure that each part of the tree receives its fair share of sunlight, necessary for even growth and preventing die back.
A bench or staging should ideally allow the bonsai to be displayed at eye level, where the trees can be viewed to their best advantage. Siting bonsai on separate wooden plinths is a wonderful way to display individual trees in the garden.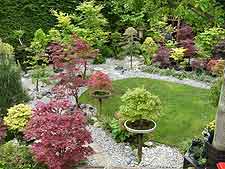 These stands are made from fencing posts with rectangular slatted table tops, constructed using short lengths of wood and stained dark brown. With clean, simple lines they are an excellent alternative to benching and can be used to display either single specimens or groups of bonsai trees. The addition of Japanese lanterns in the garden instantly creates an oriental atmosphere.
Sections of telegraph poles are a good alternative pedestal upright, being highly suitable for displaying cascade style bonsai.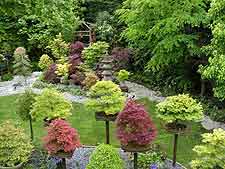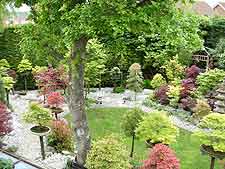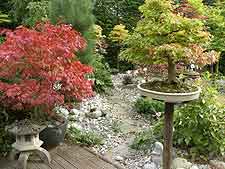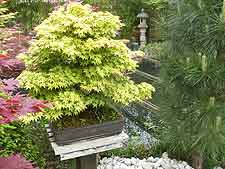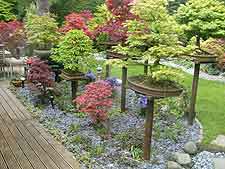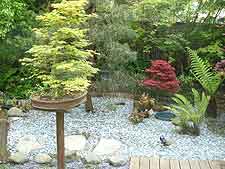 Adding an Oriental Flavour to Your Garden
Displaying Bonsai in Your Garden
Plants Suitable for Japanese Gardens
Planting Bonsai in the Garden
Stepping Stones and Pathways
Ponds, Keeping Koi Carp and Water Features
Japanese Lanterns and Pagodas
Zen Gardens / Japanese Rock Gardens
Japanese Gardens - Finishing Touches