Bonsai Trees
Japanese Gardens
Zen Gardens / Japanese Rock Gardens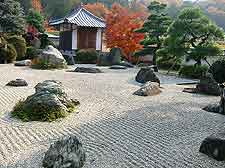 Best known to the world as 'Zen gardens' (karesansui), these serene rock gardens really are the epitome of Japanese gardening and are strongly influenced by Zen Buddhism. Many stunning Zen gardens can be found in Japan, being based around prominent Zen temples and places of meditation.
These 'dryscape' Zen gardens comprise a series of large rocks, which have been carefully chosen to represent mountains and islands, and are spaced out accordingly. Beneath the beautiful rocks, sand or gravel symbolizes either the sea or a lake, being painstakingly raked to resemble rippling water.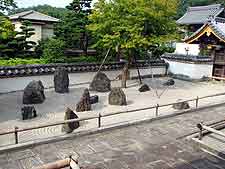 In Zen gardens, lush green moss is often placed around the bottom of the rocks and this is used to suggest are area of land, possibly covered by forest.
Shrubs clipped to shape may also be used in places, such as azaleas, together with smaller stones and pebbles, ornaments and plants, although care should be taken to keep the overall arrangement simple and uncluttered. It can be hard work and time-consuming keeping the gravel / sand clean, free from leaves and other debris, and neatly raked.
The Karesansui Garden at the Ryoan-ji Temple on the north-westerly side of
Kyoto
(
Japan
), is one of the world's most famous and highly respected examples of a Zen garden.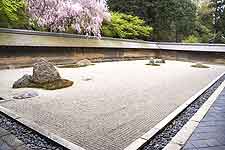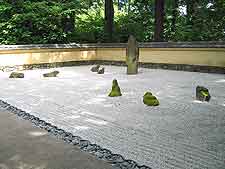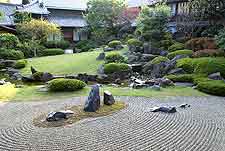 Adding an Oriental Flavour to Your Garden
Displaying Bonsai in Your Garden
Plants Suitable for Japanese Gardens
Planting Bonsai in the Garden
Stepping Stones and Pathways
Ponds, Keeping Koi Carp and Water Features
Japanese Lanterns and Pagodas
Zen Gardens / Japanese Rock Gardens
Japanese Gardens - Finishing Touches